There are gastronomic delights to be found in the Welsh Marches! Herefordshire is well-known as an agricultural region producing beef and lamb and soft fruits. Herefordshire is also famous for its orchards and hop gardens and produces fine ciders and ales. So take a break from self-catering to enjoy a meal made with our regional produce in a local restaurant or pub.
Monmouth offers the Savoy Theatre and Cinema, Wales' oldest theatre complete with restored stucco, and you are permitted to take your bar drinks into the auditorium! Hereford has both an arts centre and a multiplex cinema.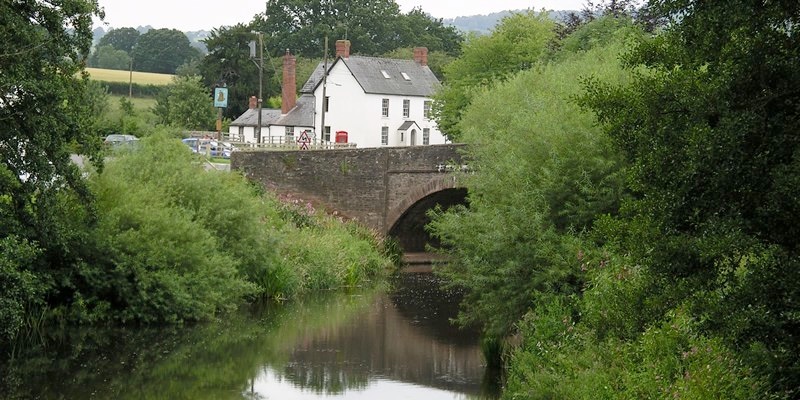 Local Villages
Broad Oak is a five-minute walk from Hollow Ash. Broad Oak Garage sells fuel and vehicle repairs and is the closest shop and off-licence.
Garway is two miles away. The village common has an abundance of wild flowers, including orchids, and lovely views. The Garway Moon Inn, situated on the common, is a cosy local with a book and video library and a monthly quiz night; it offers meals, using local produce, and takeaways. Look out for Kelsmor Dairy ice-cream made using the milk from the beautiful Guernsey cows which graze on the common. At the bottom of the village is a tiny church founded by the Knights Templar and in an adjoining garden is a rare stone dovecote, probably the finest dovecote in England.
St. Weonards' Post Office & general store has a good selection of produce, newspapers and alcohol.
Skenfrith is a village with riverside castle and church. After swimming in the river, visit the Community Shop (weekends only) for refreshments or local ice-cream. The well-known Bell at Skenfrith has a pleasant terrace and garden.
Grosmont is a charming village with a ruined castle and Norman church. There is a delightful tea room and the Angel Inn is a community-run pub offering meals and with regular music sessions. Part-y-Seal, between Skenfrith and Grosmont, offers light lunches and afternoon teas but leave room for the delicious homemade ice-cream!
Ewyas Harold is at the end of a beautiful twenty-minute drive along the Monnow Valley. The village has a shop, two pubs, fish and chip shop and two excellent butchers. Leave time to walk on the extensive common and admire the views.
Local Towns
Monmouth is our closest town with a good range of shops and eating places, including an award-winning Indian restaurant. Visit Church Street for the independent shops, especially the greengrocer and butcher and the unique Savoy Cinema where the bar sells local cider and you can take your drinks into the auditorium. Market day is Saturday.
Ross-on-Wye has a good range of independent shops and riverside pubs.
Abergavenny is renowned for its annual food festival and has a remarkably good art shop.
Hereford has the usual city centre shops and the Courtyard Arts Centre and Cinema. Visit the cathedral which has a chained library and the unique Mappa Mundi exhibition.